So, in keeping with my attempt to update you on our lives, I'm finally posting all of the parties from the past three years. If you want, check out Olivia's LEGO party which I posted like two weeks ago. Sorry, I thought I would be more on top of things. Slowly, but surely wins the race, right?
Sophia decided for her 4th birthday in 2012, she wanted a Robot themed party in our backyard.
I'm going to be honest–it was probably the most fun I've ever had with party planning. It was cheap too, decor was pretty much silver spray paint, hot glue, boxes/empty containers and a bunch of those random IKEA parts and pieces that were just sitting around the garage. I rented a bouncehouse and VOILA, robot party fun!
I found the invites on Etsy from seller Paperspice, who was amazing to work with. Sophia's invite said "Sophia is gearing up to turn 4! Bolt on over and go nuts with us!" (cheesy, but effective, tons of compliments on the "clever" theme).  The birthday banner was relatively easy, just found a gear template online and used it to cut them from black cardstock. The font was one I found online, it was just called "Droid Robot Font". Along with the invites, I was given the cute little pink robot labels, which I used for the gift bags AND some of the treat bags. I found the "Nuts and Bolts" labels free online (can't remember the website, but I do have the files on my computer if you need them).
Can we just pause for a second and reflect on how freaking adorable the treats are? I found this silicone mold online (I get nothing if you buy via the link, just trying to be helpful) and I used it to make little robot chocolates (both white and dark) I still have it, and have used it to make ice cubes since then–it has been well worth the purchase. I also bought a huge bag of Chex Mix and made small snack bags for the nuts and bolts.
I lucked out when it came to the gift bags. Michael's had a bunch of Robot themed party supplies on clearance, so I was able to get all sorts of stickers, notepads, pencils and these HUGE erasers (seriously, huge) shaped like robots and gears.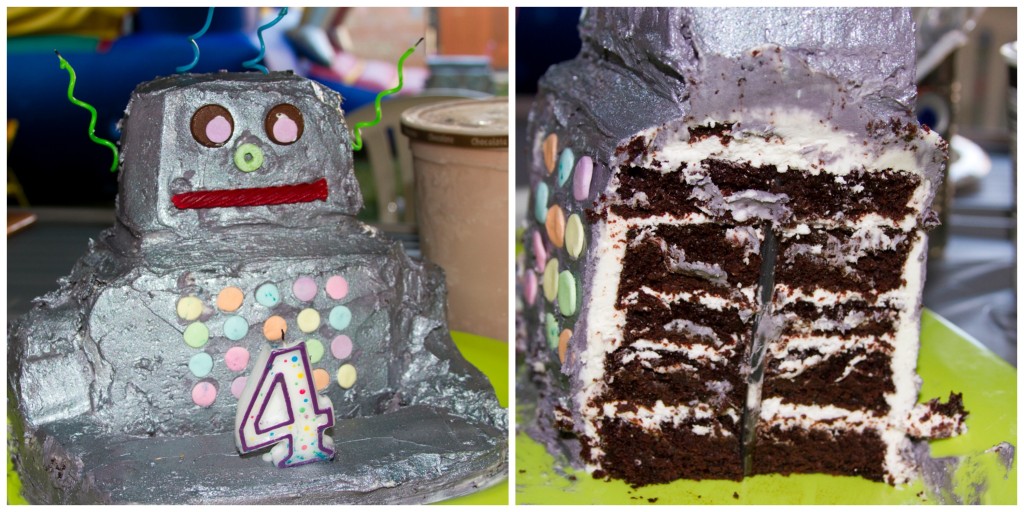 I went a little freestyle with the cake–I incorporated a few different ideas from cakes found via Pinterest and I was pretty happy with the outcome. Buttercream was my friend–I found this silver spray food coloring stuff at Michael's, which was the coolest thing ever. I made the icing slightly grey and covered it with the spray to give it a more metallic look. It was the same "Extreme Chocolate Cake" recipe I think I have used since the beginning of my party planning days.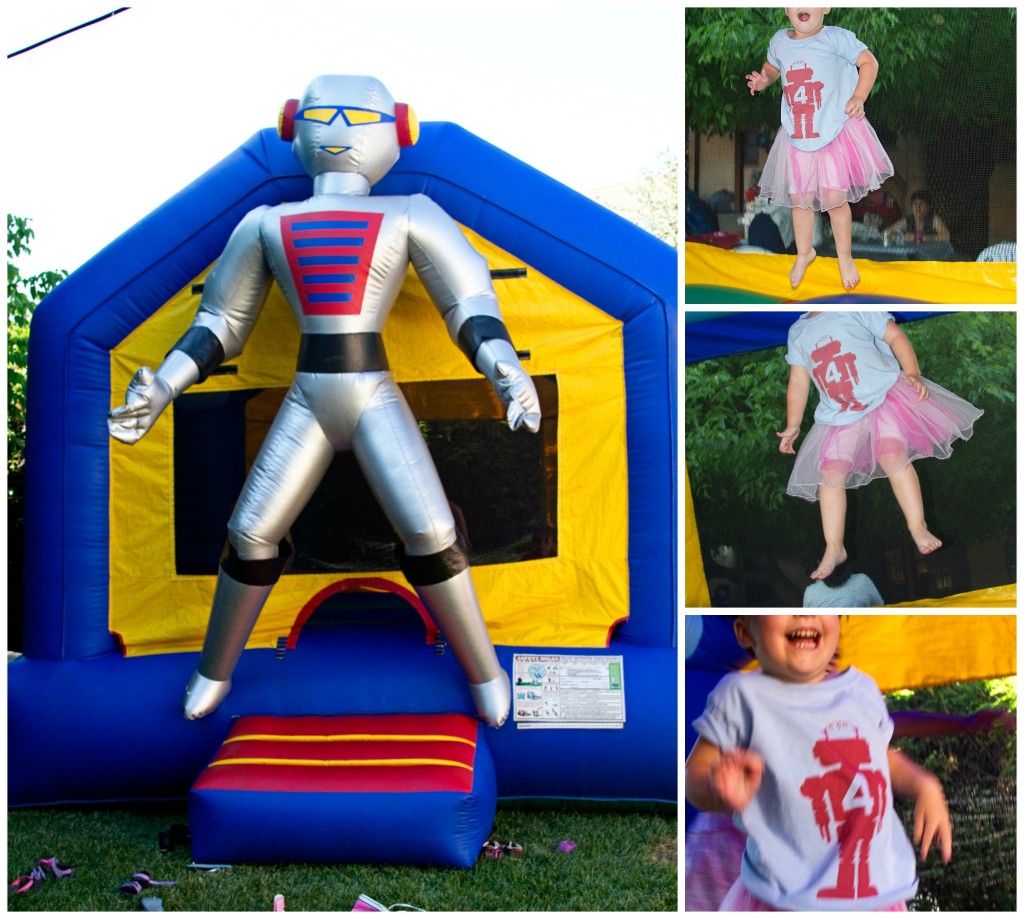 I rented a bounce house with a robot man on it–keeping the children entertained was never easier. Highly recommended if you have the space. Sophia chose her t-shirt from Etsy seller Revolution46R46; it doesn't look like they have this exact design any longer, but I suppose it wouldn't hurt to ask if you were interested. Or you could do a "Robot birthday shirt" search, which is what I initially did.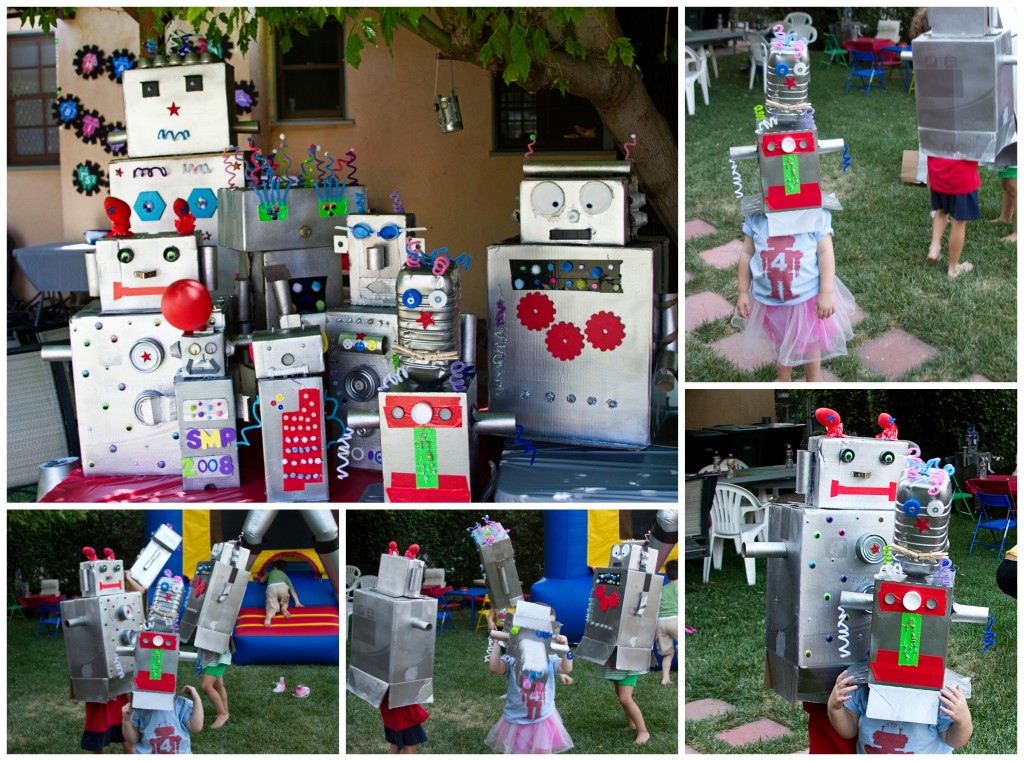 This may have been the highlight of the party for me. My Robot family; painstakingly (HA!) made over a few afternoons with a friend while the kids played in the backyard. I used all sorts of random crap and hot glue. It was so much fun coming up with different robots. My friend, who claimed she wasn't crafty at all, really got into it and was amazed at how creative she got. If you look at the top photo, you will see a tin can hanging from the tree, which was made to look like a robot head (nuts, bolts, screws, bottletops, etc + hot glue). These were placed randomly, some hanging, some on the table, holding napkins and utensils. I still have a couple–one holds straws in the pantry and the other is a pen can.
After the kids had bounced enough, they decided to wear the robots and dance around. Funniest.thing.ever. They were bumping into each other and dancing blind, as I didn't anticipate them wanting to don the decor. In hindsight, I probably should have. Some of the kids asked to take robots home, which I was more than happy to allow, since it meant less for me to throw in the recycle bin.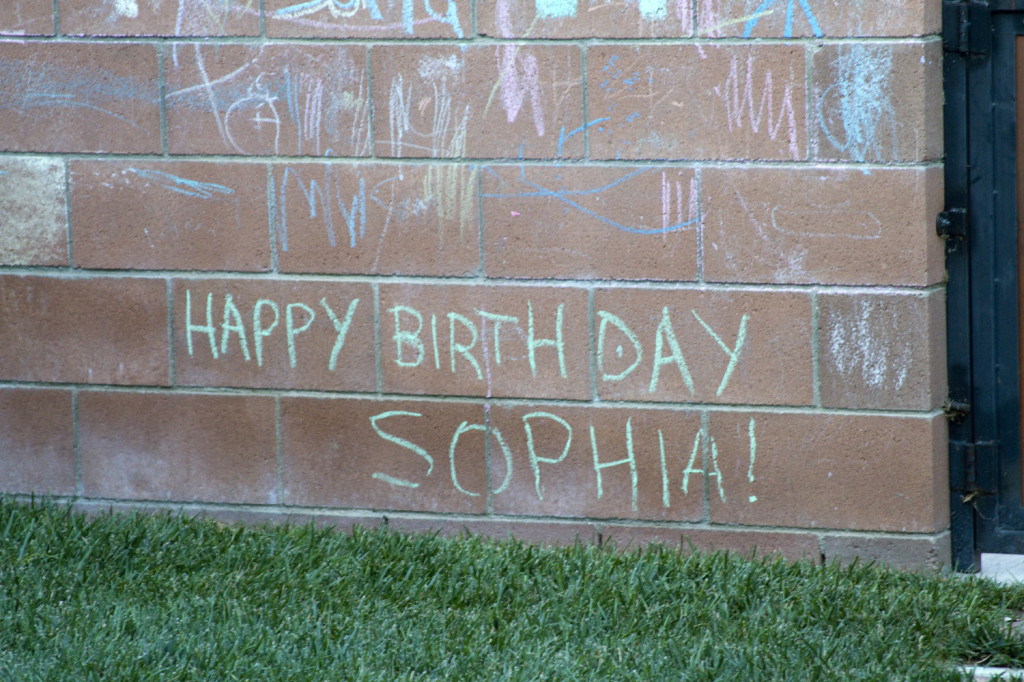 I was pretty pleased with how everything came out–and I think everyone else was too. Most importantly, the birthday girl loved her party and had a smile on her face the entire day.