On Wednesday, my baby turned six. SIX. This weekend, she will be having a very small gathering of her best buds to paint pottery at a local studio.  It was only after her party last year, where I invited her entire Pre-K class, that I realized she may not be a prime candidate for having a larger party. Sure, a great time was had by all–except the birthday girl. She perked up and joined the fun AFTER the majority of her guests left.
This year, as I was party planning, I realized that I haven't documented any party since Sophia's 3rd, which is a shame, because in the past three years the girls have asked for and received: a Lego party, robot party, a pottery party (with a rainbow theme), a Phineas & Ferb water party, a mad scientist party and this Sunday? A pottery party with a My Little Pony theme. It would be a super wasteful for all of my hard work and photos to only be beneficial to me, so enjoy the next handful of posts, one for every party. What can I say? I'm a giver.
Olivia's 5th Birthday–A LEGO Extravaganza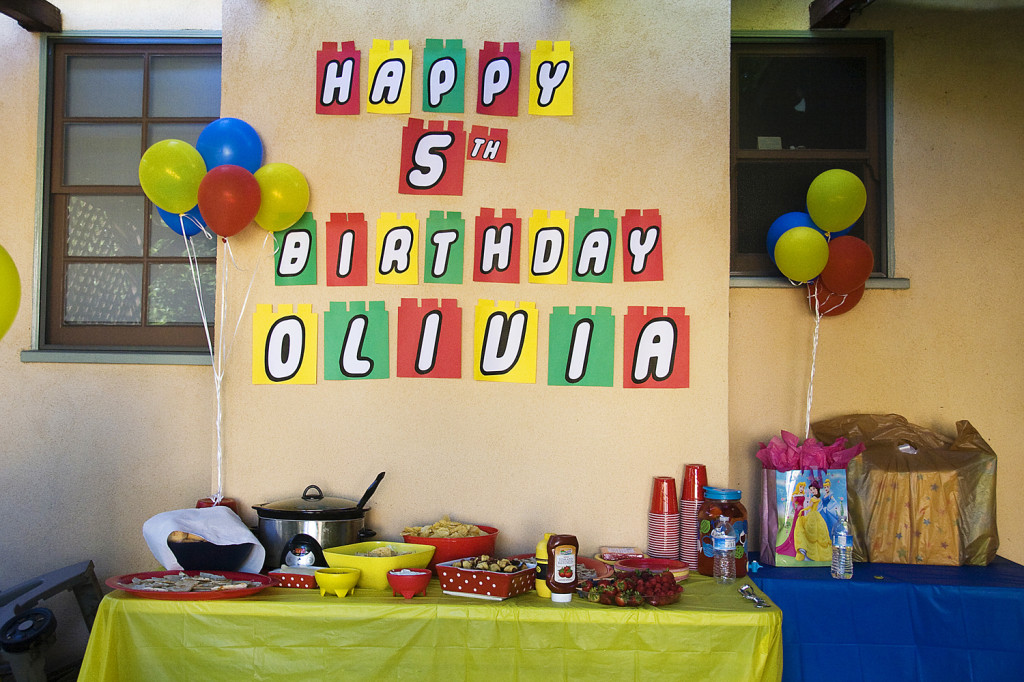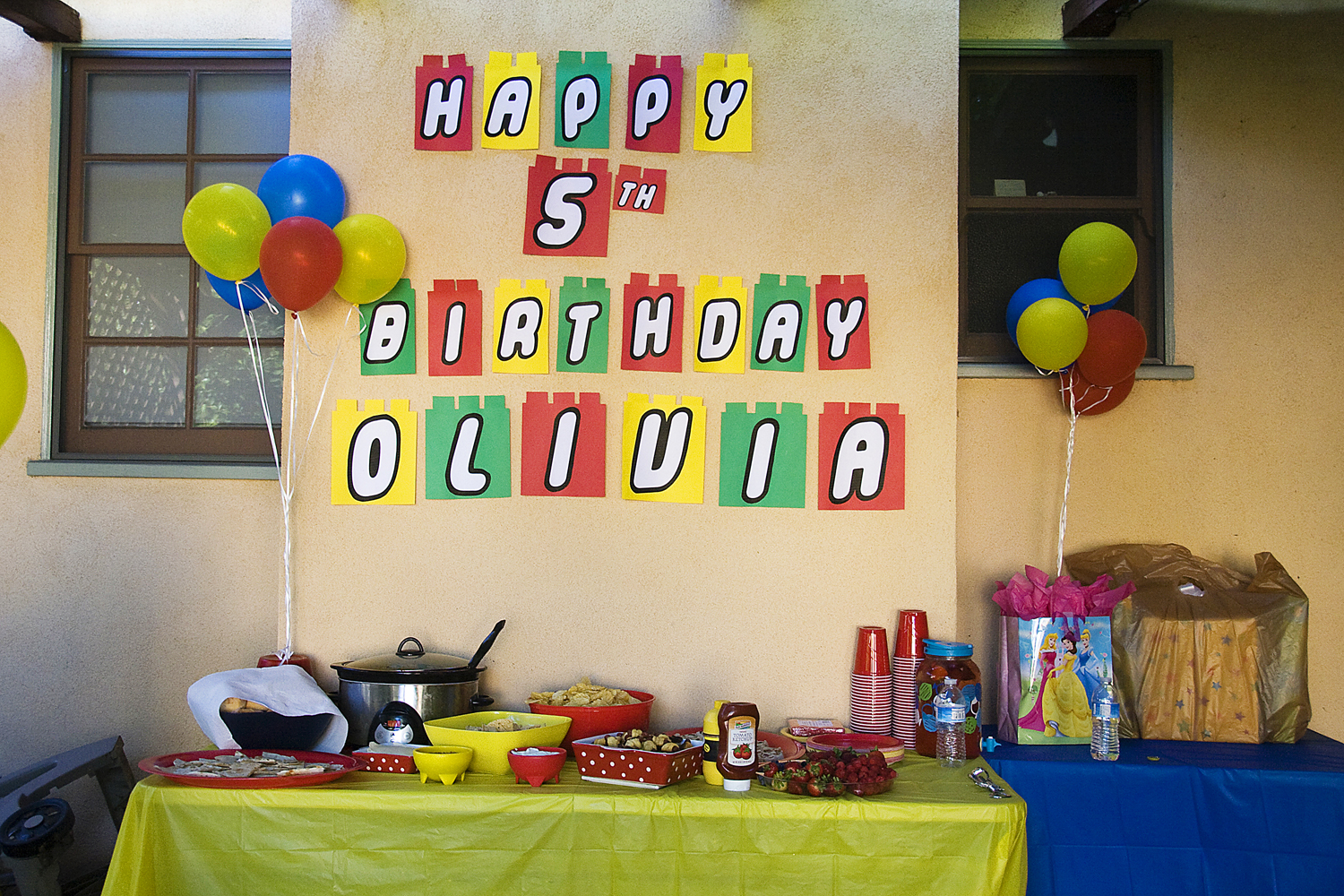 The birthday banner was super easy, just time consuming. I found a LEGO-esque font online, and then just used primary colored card stock to make the Legos. Food was simple, but tasty. (chips, dip, meatball sandwiches, pigs in a blanket, quesadillas, and fruit). I'm sure now it is a bit easier to find Lego party supplies, given the movie's popularity, but this way worked fine too.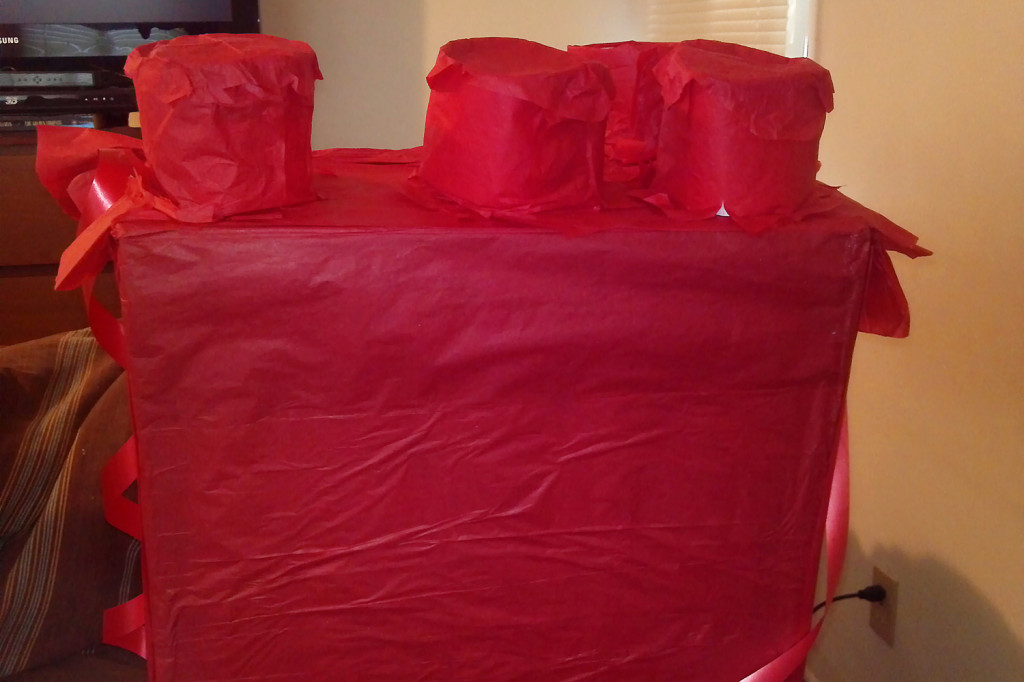 I decided to get crafty and make the pinata. I used an old box and distressed it before covering it in tissue paper. You can find instructions online (seriously, google "make a pinata out of a cardboard box"). It worked out pretty well and the kids were able to *eventually* get to the candy.
Excuse the crappy cell-phone photos (seriously, pre-iphone cell pics kind of suck) but these were the gift bags–lunch sacks with coordinating colored dots glued on to look like a Lego brick. Party favors were small building sets (they have party packs available relatively cheap), and I made Lego brick crayons using this tray and melting down old crayons. Warning: you will never be able to use the tray for ice again, but the crayons are cute.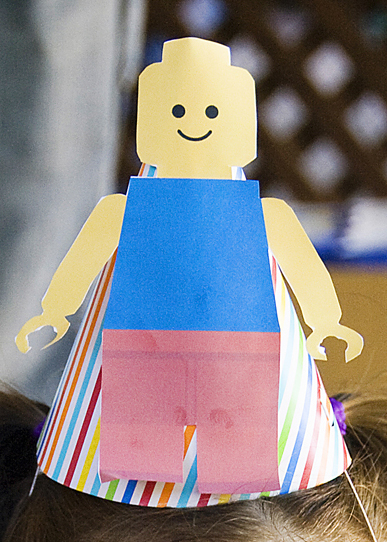 For the hats, I bought basic party hats and glued a cut-out Lego guy to it. Again, time consuming, but LOOK HOW CUTE!
  I'll be the first to admit that the cake wasn't my finest display of cake art, but whatever, it tasted great. Loaf pans and mini-cupcake pans. Cut and paste. Frost. Repeat. Easy.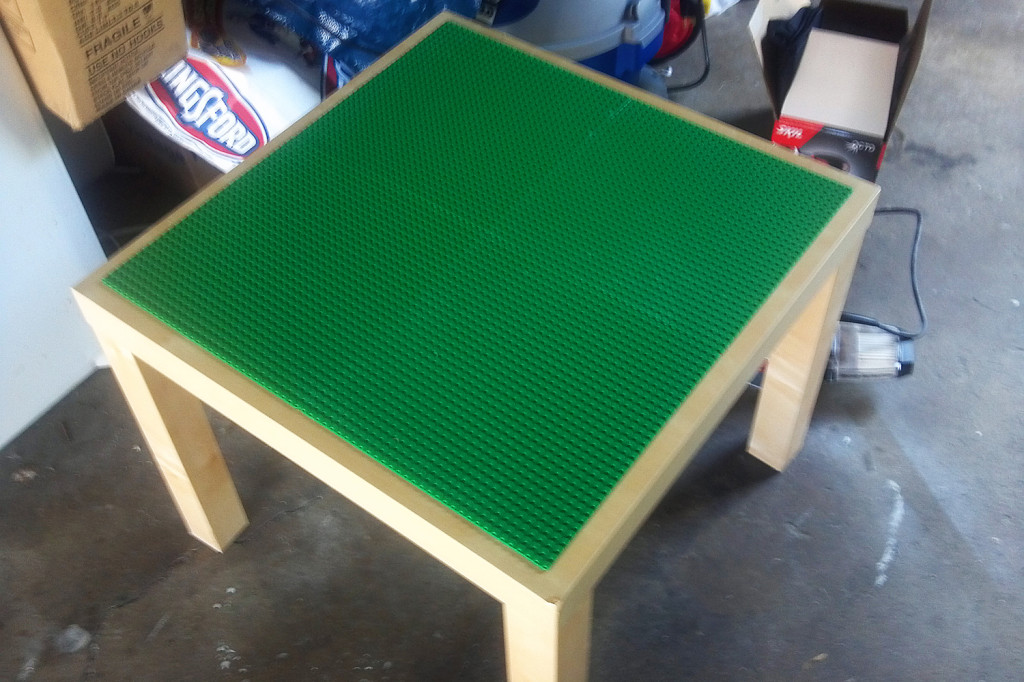 I built Olivia a Lego table for her birthday, (Ikea LACK table $7, Green Plates $40). Instead of organizing games, I just brought the table and all the girls' Legos outside for the kids to build. That, coupled with them running around outside and making sidewalk chalk art, they had a great time.