My kids love peanut butter and jelly sandwiches. If I let them, they would eat it for every single meal.
I don't know where I originally read about PB&J sushi, but it stuck in the back of my mind, so one day I made it on a whim. Needless to say, it was extremely popular in our house. I served it at both birthday parties last year and it was a hit with kids and adults alike. I also make it every time we go out for sushi as a family (they are wishy-washy when it comes to the real deal).
Since I don't know where it originated, I can't give proper attribution, but I did not invent this. I'm just sharing one of our favorite ways to sandwich.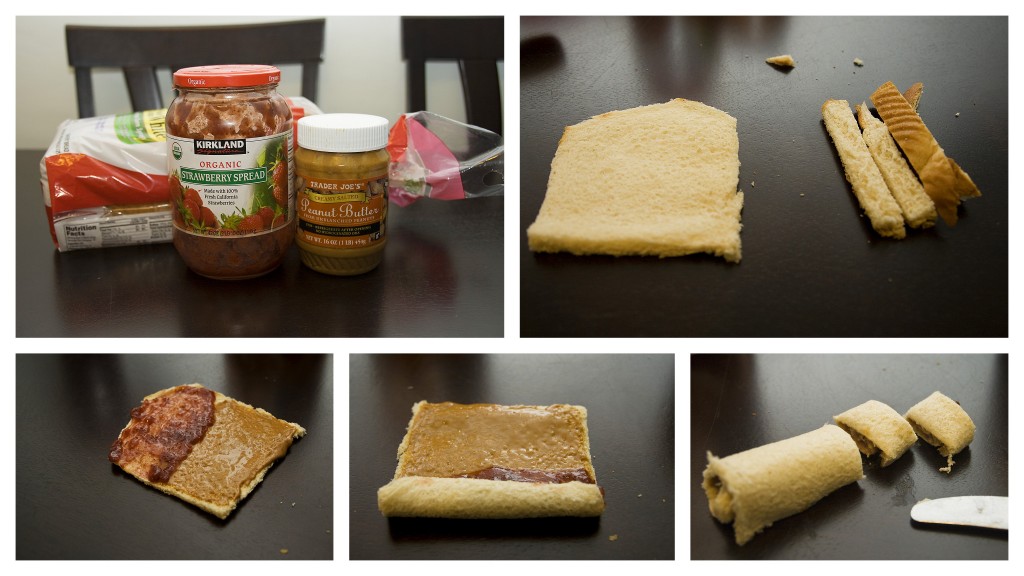 When constructing, you can keep the crusts on or off and you can flatten the bread slightly with a rolling pin. I've found that cutting the crusts and flattening the bread helps it roll up better. But, personal preference reigns supreme. Spread a small amount of peanut butter on half of the bread, jelly on the other half. When you roll, make sure you roll UP. That way you have both peanut butter & jelly on every roll. After you have your bread rolled, cut. Easy, right? One slice of bread usually yields 5-6 rolls, depending on how big the bread is, and how big you cut the rolls.
Then, EAT.
The beauty of this "recipe" is that it requires only slightly more work than an ordinary sandwich, but it is so fun for kids to eat. If you have older kids, you can serve it with chopsticks, but it is an ideal finger food for little ones.
Play around with variations! Other yummy mix & match options are:
Nutella
Marshmallow Fluff
Almond Butter
Apple Butter
Flavored cream cheese
The possibilities are probably endless, but if you do try something different, let me know how it turns out!