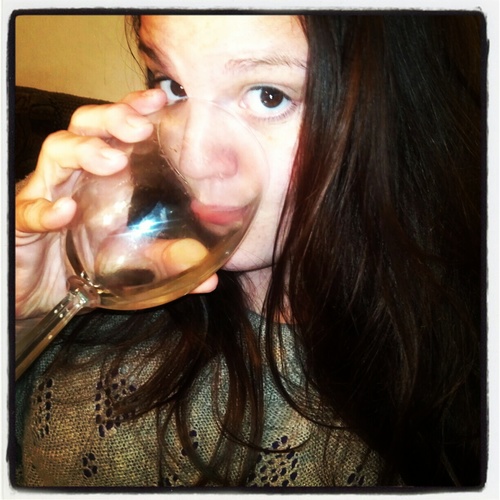 Hi! I'm Natalie, a Southern girl, living in the Los Angeles area. I studied journalism in college, got my feet wet working in the industry, then I got married and pregnatized. I now stay at home with my two amazing girls: Olivia, who was born in October of 2006 and Sophia, who joined us in July of 2008. I'm currently going through a divorce, will probably type the word fuck a lot, but I'm trying to remain positive.
I love to read, but need to take more time to do so. I'm a fan of sci-fi, true crime TV, Friends and cooking (among other things). I consider myself an advanced amateur photographer, so expect lots of photos…just not of faces. In fact, mine may be the only one you ever see. I never thought it was a "thing" but apparently it is.
I had been blogging for five years, virtually unknown, and I realized I wanted to go from being a sporadic blogger to a full-time blogger, so I opted for a whole overhaul (domain/name change).  I was on a roll until about July of 2011, and my world changed. I lost my best friend, my partner, the one person I thought would never hurt me and found myself a single parent in one fell swoop. I went into a downward spiral for awhile.
I stopped writing, I couldn't focus on it. I stopped tweeting, facebook updating, everything. I existed and I cared for my kids (awesomely, I might add). Everything I loved (except for my kids) was put on hiatus.
I have grown and changed a LOT in the past 18 months. But some things stay the same: my kids are still amusing and I'm still wanting to write about it. Overall, I am happy. I'm not jaded, I'm not bitter (alright, only slightly), and I know that there are lessons to be learned in everything. I've learned perfect families do not exist. We're all perfectly imperfect and I've decided to stop pretending everything is okay or great if it's not. But…I'm still annoyingly optimistic.
While I originally wanted this blog to focus on the more positive little things in life that make up the whole, I now also see the little victories, little steps forward, little steps back, those little teeny things that seem insignificant, good AND bad, that can alter your entire life are also important.
I still hope that one day, somewhere in their memories, will be all of the little things my children thought they forgot. But I am coming to learn that they will probably also feel some sadness by some of those little things. And that's okay. Life isn't perfect. It isn't black and white, and it isn't always tied up and presented to you in a nice, neat package.
Even though they are getting older, they are still kind of like "things" sometimes. Snotty, coughing, slobbering, yelling, crying, dirty, humorous, insightful, crazy, beautiful, AMAZING…things. You don't know from one minute to the next what they are going to do.
Believe me, it gets crazier (yet even more amazing) by the day.
My "Little Things" artwork is a watercolor drawing, created by my best good friend, Stephanie. She's a super-duper talented artist and you should check out her blog, every day a line to see more of her work. I love her and you will too!